Play the Piano and Learn Beyond! 
One-on-one on-site and virtual piano lesson available.
Studios locates in Fremont and Newark, serving east and south bay area. Students come from cities nearby such as Hayward, Union City, Milpitas, San Mateo, and Cupertino. 
Ms.Ting also teaches part-time in  in the Pennisula region such as Mountain View and Forster City. 
From the year of 2012, Ms.Ting started teaching students piano lessons. Besides guiding students improve their piano skills and music understanding, she is also specified on teaching piano class for kids and adults, as well as guiding students prepare piano exams and professional piano competitions. 
Recitals and workshops are held in various topics regularly.  
''My strength is in classical style especially Baroque, Classical, Romantic and Impressionism. Besides, I also teach Jazz and New Age Music.  With a caring, warm and encouraging manner, I like to take care of students' various needs to make sure they develop their musical expressions and technique fully. I guide students realizing playing the piano is part of human expression——have fun, play the piano and learn beyond.''   
For New Student Registration, please fill out the registration form below:   
New Student Registration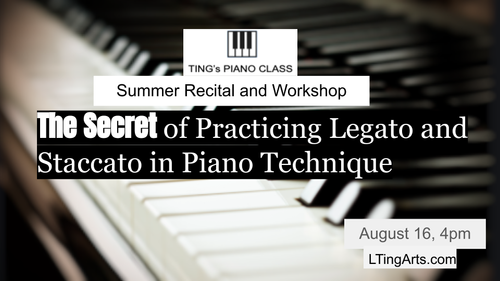 Questions 
Email  LTing.arts at gmail.com